Summer Safety Tips for Seniors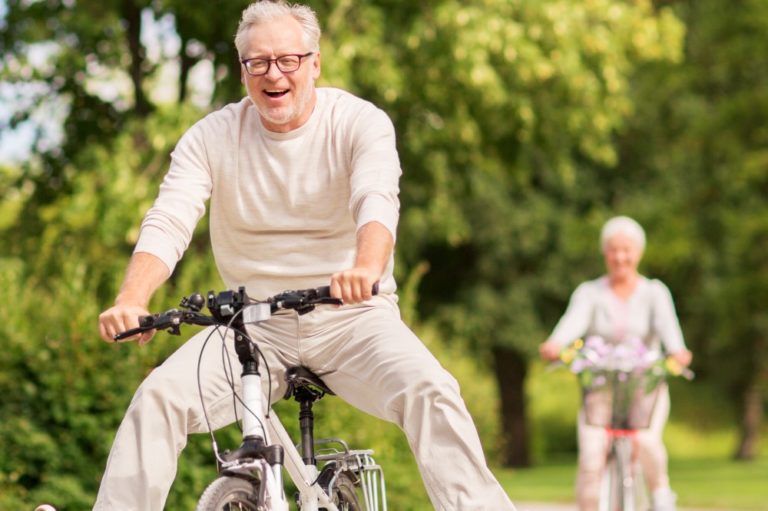 Helpful Ways for Active Adults to Stay Safe this Summer
Summer is upon us, and after the year we've all experienced staying safe indoors, everyone is looking forward to enjoying the sunshine. As much as many active adults would like to spend entire days outside, rising temperatures require extra senior safety precautions. These summer safety tips for seniors will help keep you protected while enjoying your favorite warm weather hobbies.
Stay Hydrated
As we age, our bodies naturally lose both the ability to conserve water and our keen sense of thirst. Out in the heat, seniors can quickly become dehydrated. Be sure to drink no less than eight 8 oz. glasses of water per day if you plan to be out in the sun. It's also a good idea to drink sweat replacement products that contain salt and potassium, such as sports drinks.
Take Regular Breaks
It's recommended that seniors limit outdoor activity to 20- to 30-minute sessions in the summer heat. Too much heat exposure for too long can result in severe physical damage. Taking frequent breaks, on the other hand, can allow you to stay outside longer throughout the day. Keep in mind that when you do take breaks, you should do so in an air-conditioned space to allow your body to regulate your internal temperature.
Protect Yourself
This may seem like senior safety common sense, but it bears repeating – wear sunscreen. Ultraviolet rays can harm our skin without us even knowing. Seniors should apply water-resistant, broad-spectrum SPF 30 sunscreen or higher every hour you're in the sun, even if it's cloudy. Because the skin of older adults is prone to dryness, it's also a good idea to moisturize regularly to help prevent water loss from your skin.
Wear the Right Clothing
The right clothes can make all the difference to beat the summer heat. Light-colored, loose-fitting clothes are a far better option to keep you cool than thick, dark, tight clothes. A little-known summer safety tip for seniors is to wear clothes that cover as much of your body as possible. Long-sleeve shirts and lightweight pants will protect you from harmful UV exposure. Just make sure they're light and airy so that they don't act as body heat insulation.
Know the Signs of Heat Stroke
Your best defense is knowledge regarding the dangers of heat stroke, heat exhaustion, and hyperthermia, a condition opposite to hypothermia in which your body temperature becomes dangerously high. Look for these warning symptoms of heat stroke, and immediately go inside and seek medical attention if you experience them:
Your body temperature reaches 104 degrees or greater.
You suddenly become confused or agitated.
Your skin becomes abnormally flushed or dry.
Headaches, nausea or vomiting suddenly occur.
You suddenly feel out of breath.
Your pulse becomes abnormally fast.
You notice that you're not sweating, despite being hot.
You feel as if you'll faint.
Enjoy a Safe Summer
These helpful summer safety tips for seniors should help you beat the heat and make the most of your summer. Here at Longhorn Village, residents are enthusiastically enjoying the warm weather knowing that top-quality health care is right where they live. Whether they're out walking the trails, meeting with friends on the patio, or working on their fitness in the sunshine, they're living the independent lifestyle they love to the fullest. To learn more about our gorgeous community and wide variety of purpose-driven activities, contact us today.