Senior living in Austin, Texas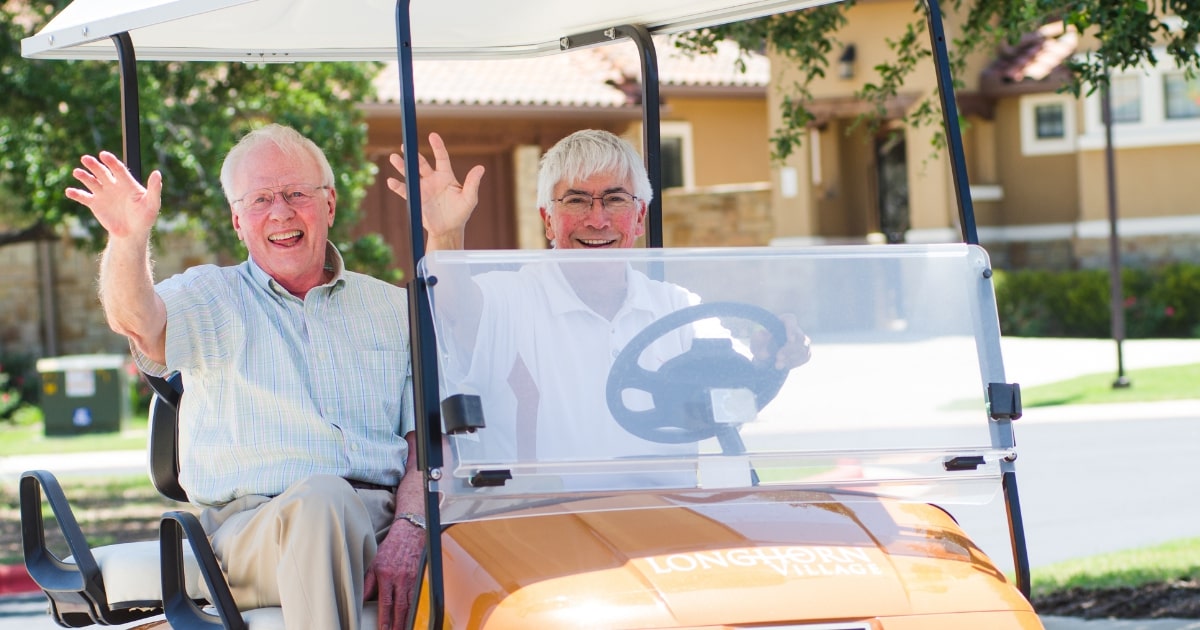 Could you love us too?
For senior living in Austin, Texas, there's nothing else like Longhorn Village for a social life, recreation, learning, reminiscing, planning, fabulous dining, comforts, and the liberated pursuit of everything that gives seniors joy. Since 2009, these are the senior living residences that life-enthralled older adults have moved to when they're ready live it up. Why is that? And if you know what other seniors love about Longhorn Village, could you love us too?
A tradition of beautiful people and a spirited lifestyle.
Austin's been good to us. In a little more than a decade, we've grown to be a community rich with tradition, good people, memorable adventures, and genuine, Hill Country-style care. Located on the historic Steiner Ranch, we're a senior living community that attracts residents from all over the Austin region – and a good many from across the country, too.
Why the success? Perhaps it's good fortune and perhaps it's because our one-of-a-kind senior living in Austin, Texas delivers benefits like these:
Lifecare that trims worries.
With Lifecare, you know you'll always have priority access to assisted living, memory care or skilled nursing conveniently on the Longhorn Village campus. You also know you'll pay far less than market rates for those services.
This solves a worrisome problem for spouses and families: If you ever need care, how will you find it and pay for it? Lifecare promises, "The care is ready right here." And its predictable rates help you plan ahead.
A lifestyle that's distinctly ours.
You'll find exceptional dining, wellness programming to make your days even better, and a wide variety of activities. The senior living residences are beautiful. And the comfortable common areas invite friendly gatherings for collaboration, conversation and learning. In fact, everything you'd expect in a senior living community is here. Yet residents will tell you, "It's not like anyplace else."
Call it serendipity. This combination of founders' vision, residents' hearts, and a purpose-designed setting that rewards those who simply love life – it's a unique lifestyle meant to be unhesitatingly lived. (And toured, if you wish.)
People you want to be with.
They come from everywhere and discover this is exactly where they belong. Friendship is easily found. Likewise, uplifting discourse, humor and genuine human connection.
It's most certainly NOT a requirement that you're a University of Texas alum to live here. Residents really do come from all places, and their diversity makes the community richer – and lovelier.
But it's also true – as you'd expect of senior living in Austin, Texas — there are plenty of Texas Exes here. Our exclusive relationship with The University of Texas Ex-Students Association gives resident members access to continuing and extended education programs, social activities and fine arts events, feature publications, library resources, campus facilities and exclusive travel packages.
Optimism with a view ahead.
Just 12 years from the start, we're already ready for next. Seeing how Austin's been so good to us, we're expanding. We'll soon be prepared to accommodate even more Longhorn-loving, freedom-savoring, fascinating Austinites and would-be Austinites. The Hooked-on-You Expansion includes more than 50 new independent living residences and a wealth of community updates – indoors and out – that'll make Longhorn Village more lovable than ever.
Grab life by these horns.
If you're planning ahead, too, you might like to know about the priority program for our Hooked-on-You Expansion. First, you need to know it wraps up in March 2022, so prompt action is smart. Second, you'll want to know about the benefits of the Program – including savings and priority floor plan selection – which you can learn about at LonghornVillageExpansion.com.
On the other hand, if you'd like to take a closer look at floor plans that may be available now, you can try our Floorcaster, the online tool that takes basic information and presents you with an assortment of floor plans that fit your budget and perk up your imagination.